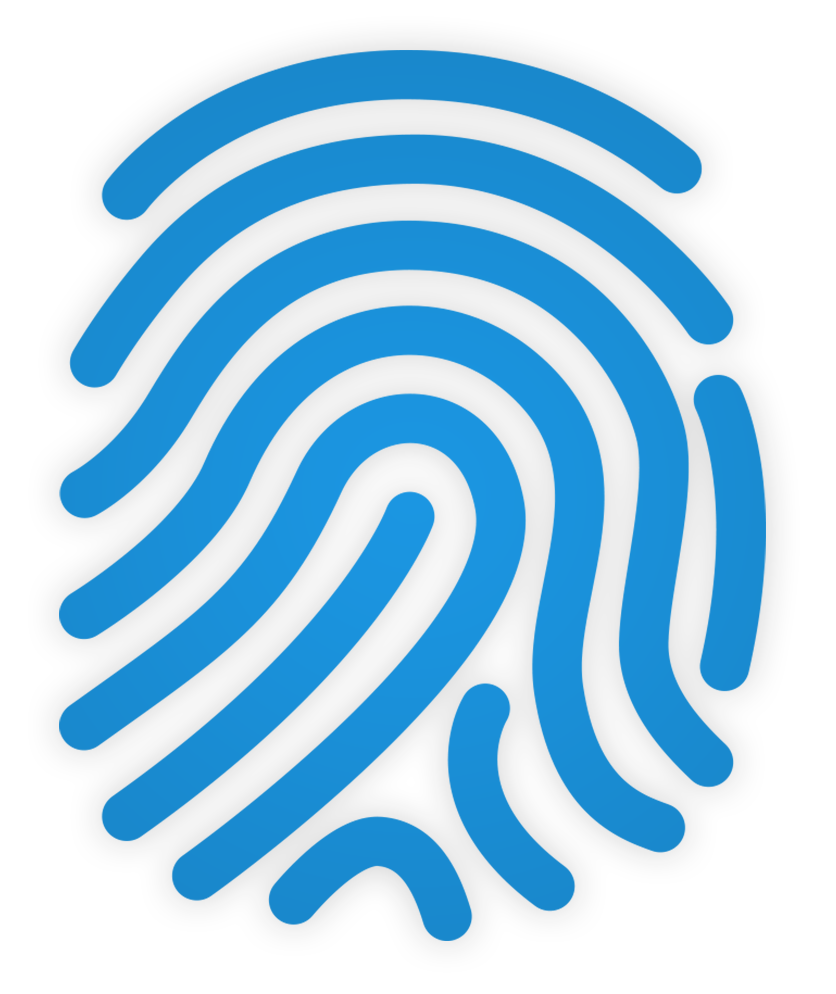 Unique water. Unique Solutions.
Our Water Treatment Solutions
An effective water treatment system in not a simple "buy in the box" item. We are often asked to help clients who have bought a softener or an iron blaster from a box store because they had been told that is what they needed. Sadly we have to tell them that, while their system was great value it is not capable of treating the water in their location.
Water varies greatly from site to site. Iron, tannin, turbidity, pH, hardness and TDS (total dissolved solids) all need to be determined before selecting a system that will do the job.  The microbial counts and sometimes even heavy metals and other minerals also need to be considered. If you have iron you may think that a simple chemical free iron removal system from a box store will work. However if your pH is also low the media in that filter will not function properly.  You need ALL the facts befor determining what water treatment system will best suit your needs.
Test your water.
At Muskoka Clean Water we test your water before recommending a treatment solution. We will even custom build you a system depending on your water test results. When there is more than one solution will will give you options and explain to you how they work and what your maintenance requirements are.
Staying with you.
Once you have a water treatment system in place we are able to supply all you ongoing maintenance needs. We carry a large selection of filters, pumps UV bulbs and sleeves and treatment media's and if we do not have it in stock we will get it for you.
Learn more.
If you would like to understand more about water treatment please download this great guide "Water Treatment for Dummies" available to you from the Water Quality Association because we are members.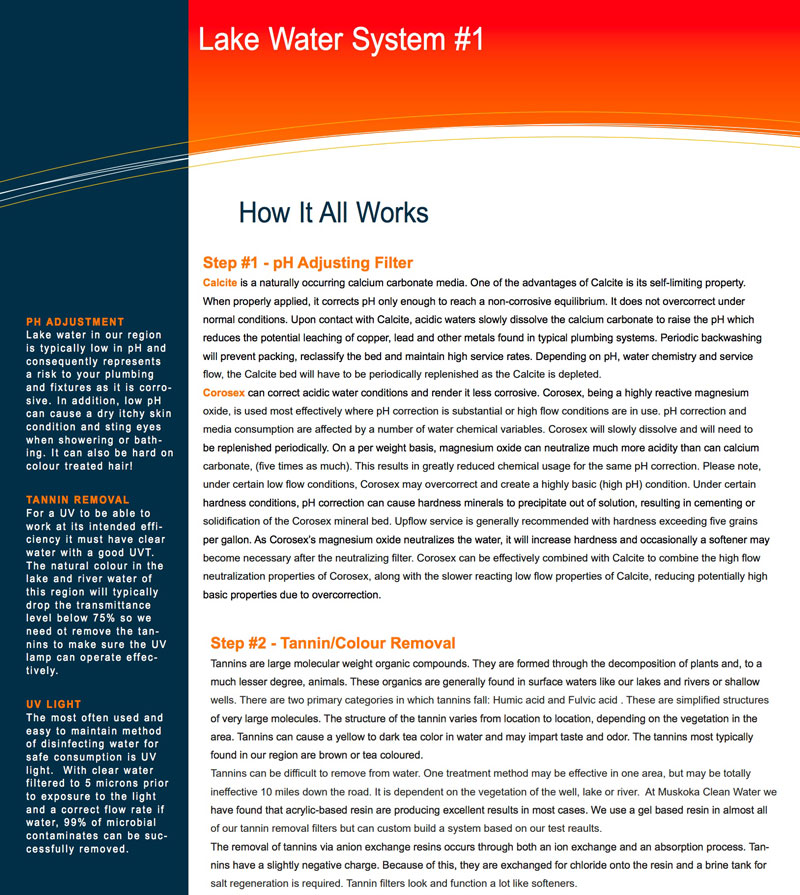 This is our full lake water treatment system which includes a filter to adjust the pH and protect the household plumbing from the corrosive action of the low pH the lakes and rivers have in this region. The pH adjusting unit is not required to make the tannin removal system work but is highly recommended especially if the home has copper plumbing.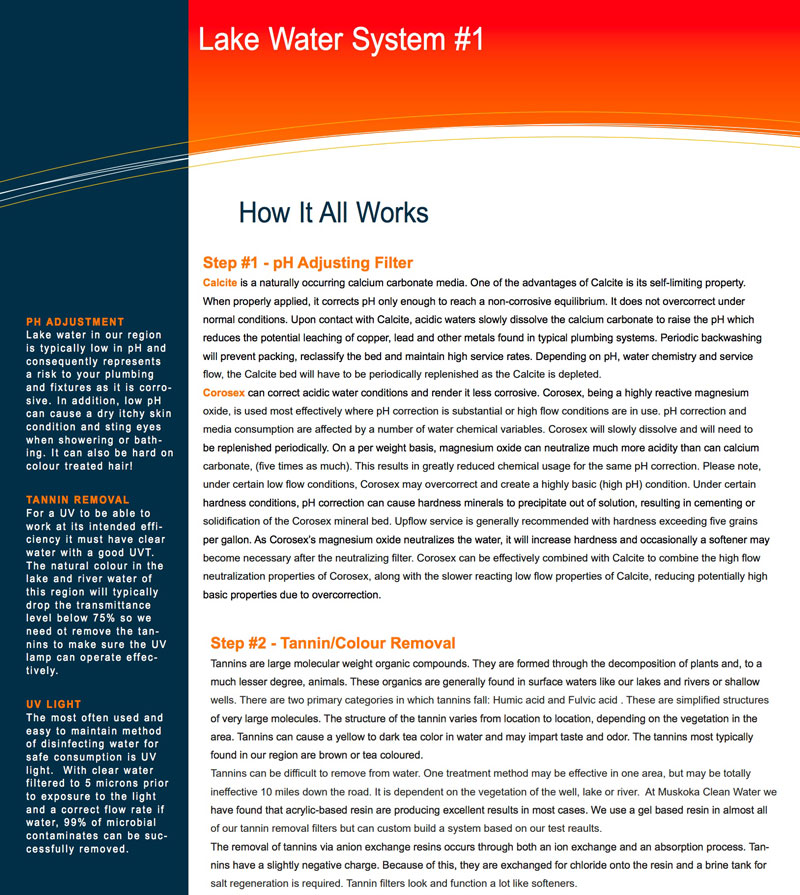 Lake water treatment #1.a
This is the same as system number one but as many of our clients already have a UV system they do not always need to purchase a new unit. If the current unit is capable of supplying a sufficient dose of UV to properly treat for microbial contaminants we are happy to work with it so the customer saves money.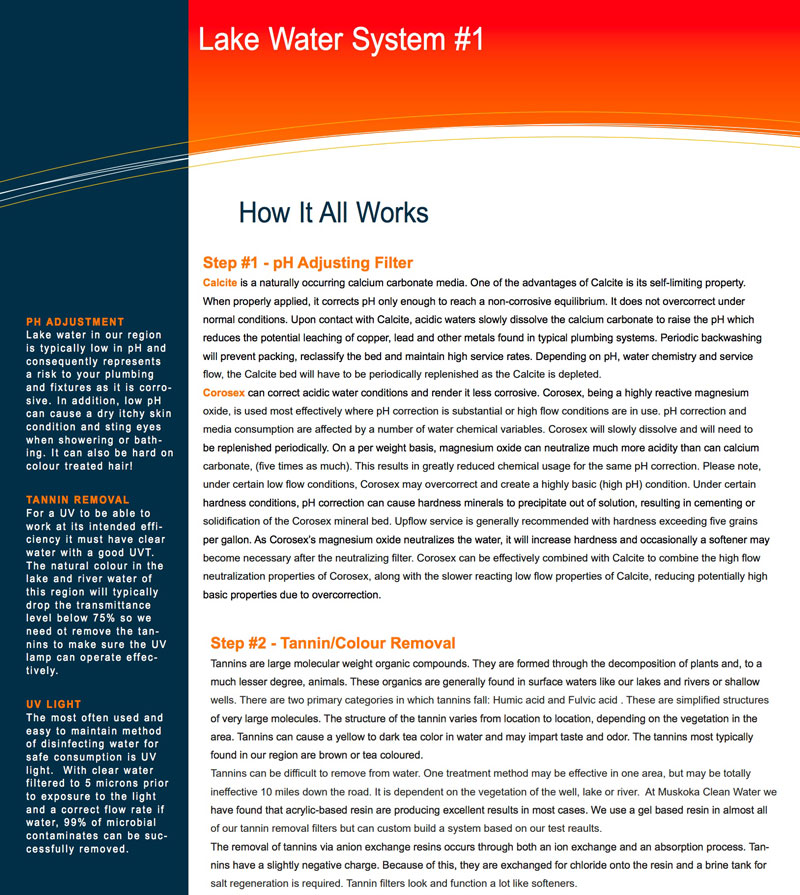 This is system number one without a calcite filter to adjust the pH.
Low pH is common in our area and pH should be adjusted to protect plumbing, fixtures and appliances. Low pH can irritate eyes, skin and hair. Many water treatment system require a minimum pH to operate properly.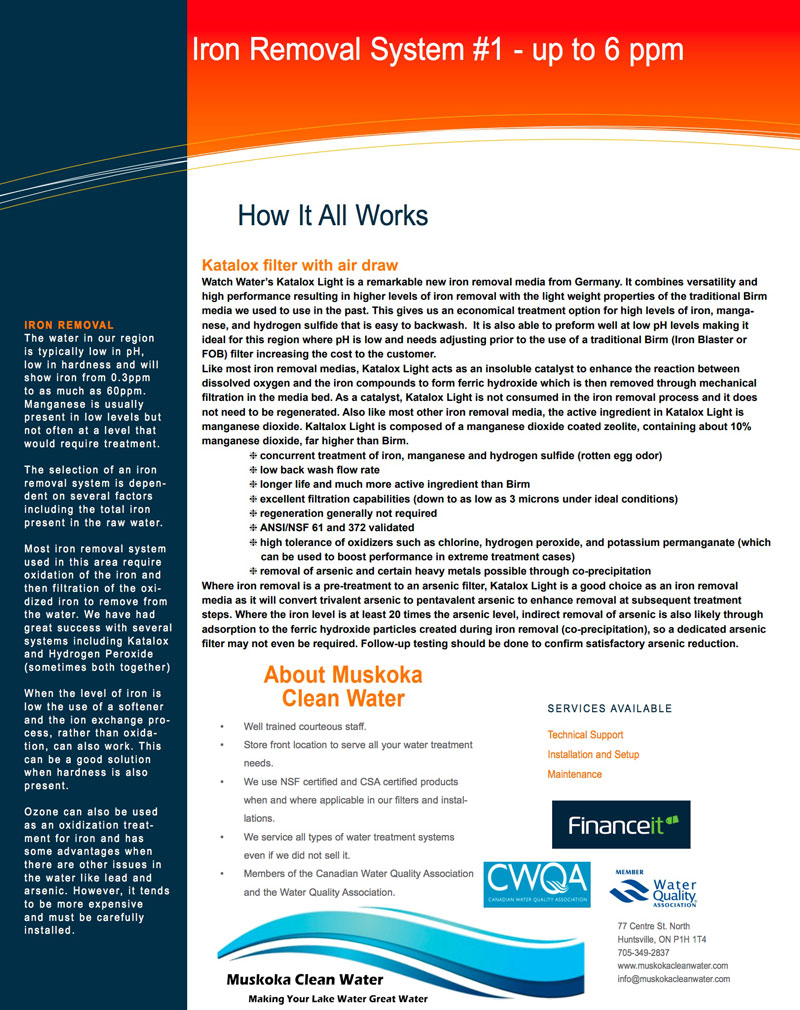 Iron Removal System #1 – Katalox Light
This great filter removes up to 6 ppm of iron and can usually will not need pH adjustment prior to installation. Very efficient and economical!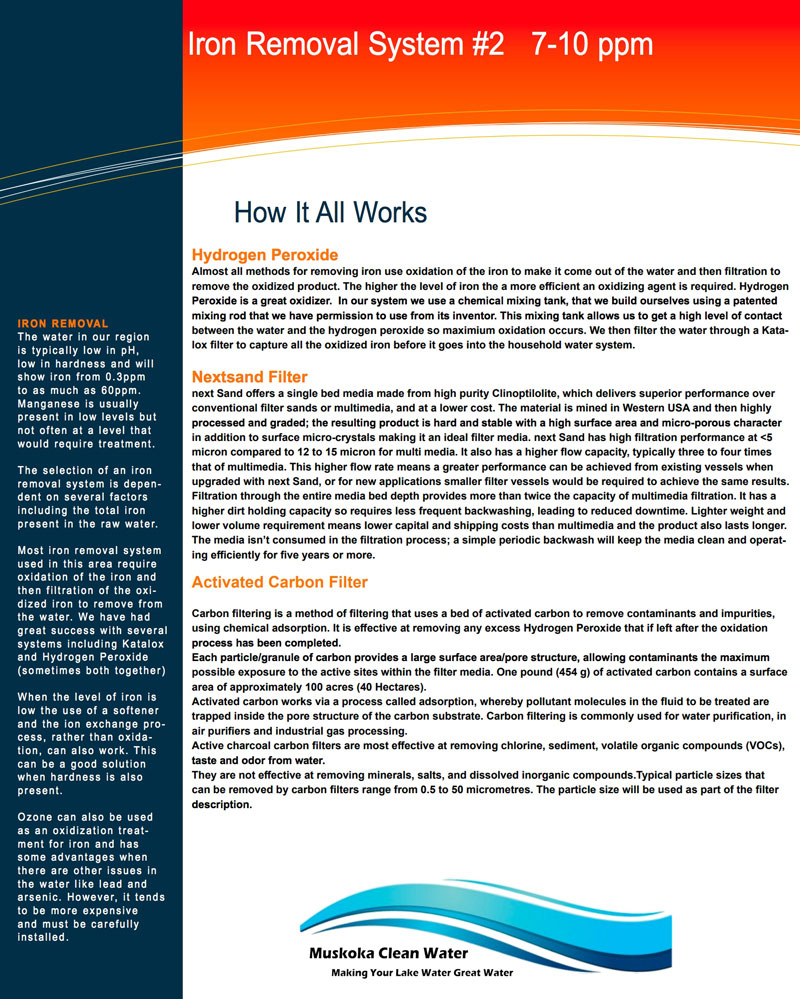 Iron Removal System #2 – Hydrogen Peroxide with Nextsand and Carbon
When iron levels get to high we boost the oxidation with Hydrogen Peroxide to ensure a great result.
77 Centre ST., N.,Huntsville, ON P1H 1T4